Renaissance the Poet
With a voice and a presence that commands attention, Renaissance enraptures audiences with meticulously, calculated rhythms and profound messages.
The Dawn of an Emissary 
     Dying at seven years old in a fatal car accident on Interstate 5 that caused a massive head trauma, that led to both his heart and breathing to stop. The paramedics arrived on the scene shortly afterward and resuscitated his heart and lungs and rushed him to Harbor View Trauma Center. The accident required surgery and left Renaissance in a coma for weeks. Miraculously, the surgery was a success and he survived the coma, but there were repercussions: severe migraines, a very short attention span, short-term memory loss and amnesia: he forgot everything. However, Michael Anthony Moynihan, a.k.a., "Renaissance the Poet," had a spirit that would not surrender to anything or anyone; not even death. He had a job to do that was so important death itself could not claim him before his task was completed.
Renaissance was born to influence the world.
The Birth of the Poet
     Renaissance the Poet started writing seriously at the age of sixteen while locked in a cell, at a juvinile detention facility in Washington State for stealing a van and getting into a high speed chase through the streets of Seattle. He had been inducted into a gang the previous year and immidiately assimilated into a life of crime to support his drug and alcohol addiction. When  Renaissance entered high school the repercussions of the car accident caught up with him and  he found that he could not keep up because of his short attention span and short-term memory loss. Feeling that his failures were his fault he dropped out of school and turned to drugs and alcohol to cope. That is when he was introduced to the gang-life in Seattle.
     Renaissance was sent to a juvenile prison, the Indian Ridge Detention Center,  after he was convicted and was sentenced to participate in a drug rehabilitation program while incarcerated in the penitentiary. Since the accident he had not felt but three emotions: fear, anger, and joy. However, the rehabilitation program that he entered into provided him with packets that he was to fill in while he was in his cell, and they required him to answer questions that he had never considered before. Those questions caused him to start and intrinsic evaluation of who he was, something that he had never done before. As Renaissance started to look inside he began to feel a more intense spectrum of emotions that spilled over onto the pages of those packets and eventually into a notebook in the form of poetry.
     An unstoppable force had met an immovable object and for the first time he had to sit still with himself, in a cell, writing, and it seemed that Renaissance had finally found his calling: The written language, moreover, the spoken language and he has used his talents since the days of his incarceration to influence the world.
The Rise of Renaissance
     The name "Renaissance the Poet," was given to him by two of his friends; Séance, a DJ and Producer from Seattle and Mark Hoy, of the hip hop band "
Theoretics
," both of which 
Renaissance
 grew up with . The first part of his name "Renaissance," was selected for its obvious connotation to the colloquialism "renaissance man".
According to dictionary.com a renaissance man is "a present-day  [person] who has acquired profound knowledge or proficiency in more than one field." And according to wikipedia.org a renaissance man is a "Polymath, a person whose expertise spans a significant number of different subject areas." While in more conversational terms it means a "jack of all trades," a term used to describe a person who has held many positions or stations in life. Mark and Seance, both prolific writers recognized this characteristic in Renaissance and thus, he was named.
In addition to being sent to the juvenile prison where,Renaissance participated in the rehabilitation program, he was also on a Washington State Department of Natural Resources tree crew. As a member of this crew he not only did forestry clear cutting and restoration work that required him to hike up five miles with a one hundred pound bag on his back, but he also fought forest fires throughout the time that he was incarcerated. Having to rely on people he did not know–and who were from rival gangs, an otherwise treacherous position to be in–for survival in an unfamiliar wilderness, taught him that life was not just about colors and blocks, but rather, about our collective well-being. After his release from juvenile detention the drugs took hold of him yet again as he was re-assimilated into his gang; "Blood in, Blood out" as the saying goes.
     Insofar as Renaissance found himself re-involved with the gangs and drugs, so also in crime, however, he was not incarcerated again.  On his eighteenth birthday he was introduced to the drug "ecstasy" and overdosed. An atheist all his life up to that point, he met what he understood as god that night. The next morning he detoxed and ceased his drug usage, smoking cigarettes, eating meat, and shaved his braids off. He found an Old King James Version Bible and a Church of the Nazarene on his way home and began attending that Sunday. Renaissance's world revolutionized overnight and a new chapter began in his life.  
     As Renaissance read the Bible, he came across an instruction Jesus gave to his Disciples in the book of Matthew Chapter 10: Go and preach the Kingdom of Heaven. And he did just that, he packed a bag and walked across the country from Seattle to Hyannis Port, Massachusetts where he lived in a monastery with the 
Twelve Tribes of Israel
 for a half a year and became a priest.
     Approximately, one year after his initial religious experience he began to have doubts when he started to realize that he was living in a cult. It was a monastery in that they lived in villages, but a cult in that there was not much potential to leave, the Group Think tactics of control and how all member were made to feel guilty and sinful for desiring any other type of lifestyle.
     One day while Renaissance was struggling with his decision to become a priest for the rest of his life, one of his brothers, named Peter (the rock) is reported to have said;
"my brother, you have a lot of power and either you are going to help a lot of people, or you are going to hurt a lot of people, but either way you are going to influence a lot of people." 
Shortly after that, Renaissance left the priesthood because he came to the realization that he could be more influential from without the priesthood than from within.
     However, when he left the priesthood he discovered that the drugs were not through with him and he suffered another and final bout with addiction. As they drug him from one coast to the other he ripped throughout the lives of those he cared about like a tornado until he was left by himself, homeless and on the ledge of bridge. Cradling the rail of the bridge, ready to toss the vestigial shell of a human from those murderous heights, a thought ran through his mind: "If you can just get off the dope, your life might just get a little bit better. Besides, if it does not, the bridge is not going anywhere." After which, with the help of the Department of Social & Health Services, he was able to enroll in another treatment facility. This time he sobered up for good.
     While in Cedar Hills Treatment Facility, Renaissance had an uncanny experience: a woman named Rose, says to him one night after a meeting;
"you have a lot of power and either you are going to help a lot of people, or you are going to hurt a lot of people, but either way you are going to influence a lot of people." 
Renaissance could disregard one occurrence of this statement as random, but not two, and especially not in verbatim from two entirely different people on two different coasts.
     His calling was unavoidable. And even after all of his experiences and close calls with death, the world seemed resolute in its decision not to let 
Renaissance
 pass into the realm of the forgotten. He at last conceded to the messages he had been receiving his whole life and he picked up a pen for the first time since his overdose and began to write. In fact, it was this writing which may have indeed recalled his life from the depths of the hellish prison of addiction because it was his intrinsic, self-searching which broke through the delusions and lies holding him prisoner.
     When Renaissance graduated from the treatment center he began to work with Rice Yoba, and instructor for Arts Corps, a youth program in Seattle, which helped pull kids off the streets and into artistic expression. Rice showed Renaissance that there was more to Hip Hop and rap, than just gang-life, drugs, guns, money and misogyny when he introduced him to Saul Williams and the movie "SLAM". That indeed there was conscious Hip Hop and a place for his deep and intrinsic thoughts and emotions; a realm wherein his true voice could soar.
     Next, Renaissance decided to go to Tongue Point Job Corps in Astoria, Oregon to study printing because he read a book by Nathan McCall titled Makes Me Wanna Holler, wherein the protagonist became a writer for the Washington Post via learning how to print. So, that is what he did and while there he earned not only that certificate, but also his General Education Degree (G.E.D.), and his High School Diploma as well as becoming the Student Body President.
     Yet, when he returned to Seattle, there were no printing jobs available to him so, he began working at a Value Village, a local used retail store until Roman Richards, the owner of R.J. Richards Enterprises offered him a job doing construction work. Within four years, 
Renaissance
 had worked his way up from being a laborer, to being a foreman, to a project management position, and eventually to being a vested business partner in the company.
     Throughout his time with and under the tutelage of Roman,Renaissance completed many business and management classes to improve his skills both within and without the company.  He successfully completed the University of Washington's Foster School of Business, BEDC Business Certificate Program and the Turner School of Construction Management.
     RJ Richards CE LLC., over the next couple of years went on to win both the Business of the Year Award in 2008 from the City of Seattle and the University of Washington Minority Business of the Year Award in 2010. Roman, Jessica and Michael's partnership flourished as the seeds they sowed began to bear fruit, which for most companies was impossible given the economic recession the United States was in at the time.
     All the while, Renaissance was busy making music, writing poetry and performing all over Seattle honing his skills and drafting an album.  
     For five years the Cornerstone Collective culminated all the aspects of Hip Hop music; freestyle cyphers, spoken word, a showcase of live Hip Hop artists, DJ turntablism, dance, art and a live band into one night.
     Open mics have sprung up all over the Seattle area mimicking the recipe Mark Hoy and Renaissance crafted, and thus, the cry for a place that artist in the Northwest could call home had been answered.
Check out:
     In 2011, the rapping, construction, business owner decided that it was time to hang up his tools and he decided to return to college to earn the Law degree he had always desired. So, that April he started attending North Seattle Community College, where he again joined student government, this time as the 
Student Fee Board Coordinator
 (treasurer) and the steward of $1.5 million. 
     The hard work paid off because 
Renaissance
 graduated with honors, he was on the presidents list and was the 
valedictorian
 of his graduating class. The accident that had impaired him as a youth actually turned out to be his greatest asset in college. Because of his short attention span he had to invest his time very wisely, pulling away from music and performing for the two years that he was at NSCC to focus on his books. His second greatest asset was his love for poetry, which he utilized to translate his textbooks into lyrical form for easier memorization. 
     Renaissance 
is a scholar and a gentleman who is savvy with his words. He is also a dedicated, tirelessly grinding strategist and negotiator. Many of these skills were refined as both the treasurer of NSCC and as student there. Now that he has graduated from North Seattle, he has moved onto the University of Washington to major in History and Philosophy before proceeding into the study of Law.
     Renaissance has been a gangster and a thief who has gotten into high speed chases, and has been to and back from prison because of his behavior. He has been homeless drug addict pushed nearly to the brink of suicide because the drugs consumed him. He has been a forest fire-fighter and a forestry worker. He has walked across the country and been priest in a cult. He has been a cashier, done logistics and stocking and was even a construction business owner. Renaissance was the president of his Job Corps and the treasurer of North Seattle Community College, and graduated the valedictorian of his class.  He has even been a mentor for at risk youth with TSB (the Service Board). And to top it all off he has already been dead and back, and that is only just the beginning.
By every definition of the phrase, Renaissance the Poet  
is a true "Renaissance Man".
     I
n a self-built studio, Renaissance produced the debut album  
MusicaDiction
, named after his music entertainment company. Drawing from his varied experiences, he packs and infuses both his music and poetry with explosive rhythms, emotionally charged stories, an unbelievable vocabulary and hard earned wisdom.  Renaissance is a griot, a humanitarian, and determined to make a difference because:
Renaissance was born to influence the world.
I am a Black Liberationist, a Prison Abolitionist, an Anti-Capitalist and an Intersectional Organizer working for justice for all People. I am a visionary. I am a warrior for the people and for the cause of justice. I am a hip-hop artist, a poet, a historian, a philosopher, a strategist, a photographer, a videographer, a graphic designer, a writer, a teacher, a music producer, but most of all I am a Humxn Being and a member of our community.
---
 Looking Forward
As an intersectional organizer and activist, I am currently working on multiple projects and campaigns with a host of amazing, credible, and capable folx. I am working to develop a vibrant and radical Black Liberation wing in Arizona, primarily in the Phoenix area that will most likely be under the banner of Black Lives Matter. I am working on a Prison Divest – Community Invest campaign with Justice That Works, which is beginning with a campaign to get Student Resource Officers (SROs) [cops] out of the schools to interrupt the school-to-prison pipeline. I am also working on an initiative to prohibit the City of Mesa from being able to contract with private prison corporations.  I am working with Tiger Mountain Farms, which focuses on food justice, re-entry of people who were formerly incarcerated, and mentorship of youth, doing artistic and educational work. I am currently running the pilot program of the Hip-Hop Workshop I developed with a group of youth who are healing from Trauma after the police unjustly murdered a person in their neighborhood. And I am about to launch the Decolonization Workshops. I have also started a media outlet to form our own narratives called, "Heard It On The Front Line," where I answer four questions: who are we, where are we, why are we here, and what do we want.
All of my labor and activity is aimed at creating a new culture wherein Liberation can flourish and we as Peoples can truly achieve justice. With your support of the work I do, the successful fruition of this labor is all the more likely.
History
I am a formerly incarcerated individual who grew up in gangs and on drugs. When I turned 18 years old I had a 0.0 GPA in high school and no prospects for any sort of life with four felonies. It took many years and a lot of work to clean up the wreckage of my past and to build trust in the community after getting out of the gang and off the drugs at 19, but it was well worth it. I am now over 16 years sober and I recently graduated from the University of Washington, double-majoring in History and Philosophy.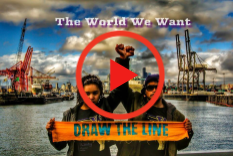 My focuses were on the rise and fall of civilizations, social movements, justice, ethics, and jurisprudence. In addition to the general focuses, I also did extensive research into the School-to-Prison Pipeline, Mass Incarceration, and Police Brutality, which includes the history of the institution of police that all culminate with politics and economics into the Prison Industrial Complex (PIC). It was a mixture of my lived experiences growing up and what I was learning about justice and what our predecessors sacrificed for the cause of justice that ushered me into the movement after the execution of Michael Brown in 2014.
 I am also a veteran Hip-Hop and Spoken Word artist, and I use my skills as a means to instruct and foster dialogue, distribute the messages of liberation and true justice, and to challenge the systems of oppression.
---
Justice means providing for the flourishing of all human beings.
In all of the work that I do, the core principle is centering the struggles and experiences of those of us who most impacted and/or who are on the front lines of our many diverse struggles.
Prison Abolition
I am fighting to bring about an end to the System of Mass Incarceration, which is merely the extension of the System of Enslavement. This is why I am currently working with Justice That Works (JTW) a grassroots prison abolition organization, currently addressing the School-to-Prison and School-to-Deportation Pipelines in Arizona.  We are also engaged in a struggle against the privatization of jails in Mesa, Arizona; No For-Profit Jails.
I provided testimony, which included both personal experience and PIC research to the Seattle City Council, as part of the No New Youth Jail campaign to help pass Resolution 31614 "Zero Use of Detention for Youth In Seattle" and to get $600,000 allocated to community directed Restorative Justice programs.  I was focal member of the Prison Divest movement at University of Washington 2015-2016 that almost got the Board of Regents to amend the endowment to prohibit hedge fund investments into the PIC. I received two awards for this work, from the UW History Department and Carlson Leadership & Public Service Center.
Black Liberation/Black Lives Matter

I am fighting against white supremacy and anti-blackness, and for the collective liberation of all our peoples. I helped found two Black Liberation organizations in Seattle, Washington; Outside Agitators 206 (OA206) and  Seattle Black Book Club (SBBC), after the execution of Michael Brown and throughout the subsequent movement to end police brutality and state repression of People of Color. I challenge the institution of police and PIC directly in meetings and on the streets, as well as with our people in workshops and on panels. Protesting and other interruptions to business as usual and the status quo, like the shutting down of Mill Ave Bridge in Tempe, Arizona, or taking over supposed Hate Free Zones in Seattle where they still permit the unjust and biased incarceration of our P.O.C. youth and state sanctioned murder of our People by police.  
Hip-Hop & Decolonial Workshops/Study Groups
I am working to provide our community with knowledge, collective, learning and understanding, and skill development and honing.
The hip-hop workshop has three primary functions; it provides a platform for positive and constructive expression with mentorship, it fosters a component of healing through trauma, and opens a dialogue for social justice to be fleshed out. One of the most important components is that the participants will learn to produce songs and videos with programs they can download for free on their phones.
The Decolonization workshops specifically address internalized oppression, physical repression, a connections to roots predating colonization, and what liberation truly is and how it will come to pass, by drawing on the knowledge, wisdom, and experience of Black and Brown scholars, authors, and activists.
Immigration Justice
I work to end the unjust Deportations of People. This is why I work with Puente Human Rights Movement in Phoenix, Arizona, standing and marching in solidarity, and organizing closely with. This is why I am working with the American Civil Liberties Union (ACLU), on the People Power campaign to shift the racist practices and policies of the police regarding profiling and deportations. Immigration and Customs Enforcement (ICE) is intricately woven into the Prison Industrial Complex and law enforcement thus, much of the prison abolition work that I do is also focused on and incorporates Immigration Justice.
Climate Justice
I am fighting to bring an end to Climate Change, and to bring about Climate Justice. When Shell's arctic drilling rig came in to dock in Seattle, I joined the Shell No coalition to fight it, putting our bodies on the line to stop it. I was on a climate justice steering committee of GotGreen?, an environmental justice organization in South Seattle, where we surveyed our community to find their needs in climate policies and put together a report about it. I was also part of the mass movement against the Royal Dutch Shell's Polar Pioneer, the Shell No campaign, and assisted with the land blockades.
It is also why I have worked in coalition with Bayan and traveled to live with and learn from the peasant rice farmers on the Southern Island of the Philippines, Mindinau in the Bukidnon region during the summer of 2015.
Equitable Education
I work for equal and fair access to equitable education at all levels.  This is why I helped to found Decolonize UW, an anti-racist, anti-white supremacist, P.O.C. led grassroots activism body, that included students, staff, faculty, administrators, and community members to challenge the racist and discriminatory policies and practices of the University of Washington (UW). The bulk of our work was trying to get the institution to divest its investments in the prison industrial complex, and to improve its acceptance and graduation rate of People of Color. With OA206 and the Black Student Union, I helped organize and lead the largest Walk Out on UW campus since the 1970s, which resulted in $3.5 million in funding for equity purposes.
Anti-Patriarchy
I am fighting to bring an end to Patriarchy, Sexual and Gender Violence. This is why I have worked closely with the founding members of Women of Color Speak Out, receiving guidance and instruction from them.
Because of how embedded patriarchy and sexual oppression are within our society, much of this work occurs in conjunction with the rest of the work I do- e.g., within our organizing spaces with fellow organizers. However, it sometimes also entails revising or rewriting the policies of institutions, advocating for legal changes, or staging demonstrations like the Check Your Privilege Rally on Greek Row of the University of Washington campus to directly and publicly challenge rape culture and male privilege.
Indigenous Sovereignty
I am working to bring about a society that respects and honors Indigenous sovereignty of Lands and Peoples.  This is why I went to Standing Rock with Seattle Black Book Club in November of 2015. I was also arrested doing media during a prayer ceremony protest/demonstration at the Kirkwood Mall in Bismark North Dakota as part of the #NoDAPL movement. This is why I am also currently working with Arizona Stands on local and national issues relating to climate change and sovereignty.
You may connect with Renaissance on multiple mediums:
Publications by Renaissance:
Awards
Edward E. Carlson Student Leadership Award 2016
UW Dept. of History Student Leadership Award